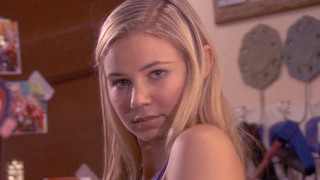 ---
Payson and Lauren continues to be snippy with each other, much of its due to their co-captain status and the playful attention Max can be seen giving Payson.
Darby makes the two learn each other's routines in an effort to have them spend time together.
Maeve surprises Kaylie with a visit to Boulder. Kaylie shares with Maeve that she still can't practice at the Rock because of her therapist and Maeve convinces Kaylie she has to turn her parents against the therapist and she will be back to training in no time.
While looking at Lauren's computer, Steve discovers the email with the altered video of the Sasha and Payson kiss, that Lauren sent to Ellen Beals. Steve approaches Lauren with a DVD of the altered video in hand and tells Lauren he is going to give it to Summer. Lauren begs Steve to keep her secret and he agrees despite his intent to show Summer he is a changed man.
Payson seeks advice from Kim and Austin as to how to trump Lauren's sexiness.
Kaylie pays the Rock a visit with Maeve in tow. Later Maeve takes off to catch an international flight to her next modeling job.
Emily finally discovers that Chloe works at a strip club when she finds Chloe's name tag. Emily shares with Payson that she had sex with Damon.
Continue Reading