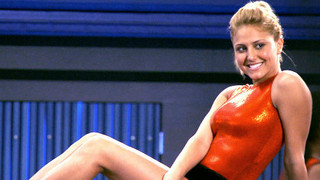 ---
Damon is having a writing and singing block in the studio at Kaylie's house. Kaylie secretly dealing with the loss of Maeve finds herself singing with Damon.
Back at the Rock, Lauren, Payson, and Emily find out from Darby that the Dallas gym cancelled their upcoming meet and the Pinewood Club, one of the worst ranked teams in the country, has agreed to come instead. The girls become worried that they won't have a chance to compete competitively before the Invitational in Hungary.
Lauren flirts with Max and asks him to come over later that evening to take new head shot pictures of her for the lobby.
Maeve's mother calls Kaylie to thank her for being such a good friend to Maeve during her stay in rehab. She invites her to say a few words at Maeve's funeral and Kaylie agrees. Kaylie shares with Damon that she has reservations about speaking at Maeve's funeral because she's never been to a funeral and very unsure of how she feels. Damon convinces Kaylie to go and he volunteers to accompany her.
Max photographs head shots for Payson and there is clearly an attraction between the two.
Emily finds out that Damon is performing at the pizza shack and makes flyers to post around The Rock in support of him.
Later when Max arrives to shoot Lauren's head shots she tries to seduce him by wearing a hot bikini. Summer walks in on their photo shoot. Lauren begs Summer not to tell her father about her behavior.
Darby has the girls stay the night at the gym before their meet with Pinewood, but wanting desperately to be their friend, she allows everyone to take a quick trip to the Pizza Shack for a little fun. While at the Shack Emily sees Damon and Kaylie on stage singing together.
Continue Reading