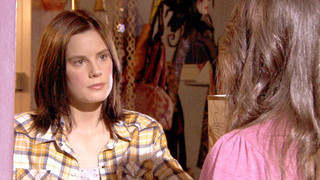 S2
E16
Requiem for a Dream
---
Emily visits the doctor with Chloe and finds out that she's six weeks pregnant. Sasha encourages Emily to make a decision about her pregnancy quickly if she expects to be ready to go to Worlds. Emily seems frustrated with Sasha and Chloe's push for her to make a decision.
Damon shares with Kaylie that his record label loves the song that he and Kaylie wrote together and they would like the two of them to record it. Kaylie appears to be making progress after speaking with Gene her therapist about enjoying singing and writing, and Gene gives her the approval for Kaylie to return to gymnastics. Damon and Kaylie continue to record their song in the studio and caught up in the moment, Damon kisses Kaylie.
Lauren convinces Steve that he must propose to Summer now that Sasha is back. Lauren sets up a cute proposal for Summer, but Summer's answer is that she has to think about it.
Marcus, the NGO representative informs Emily that she has been approved to go to Worlds. Upon hearing the news, Emily panics and runs outside for air. When Payson follows her, Emily confides in Payson that she is pregnant.
After hearing that Emily made the Worlds team, Chloe confides in Marcus about Emily's pregnancy. Marcus convinces Emily that she doesn't have to have the baby, that she can have the procedure and be back to training in no time. Overwhelmed and upset, Emily yells to Marcus that she is tired of having her life controlled by the NGO. She feels like all the chances she has been given is too much pressure.
Emily goes to Damon and tells him that she is pregnant and rather than pursue a dream that is killing her, she would rather have the baby and be happily ever after with him now. Kaylie, still unaware of what's going on with Emily, pays her a visit to apologize for kissing Damon earlier. With her worst fear and initial thoughts about Kaylie and Damon confirmed, Emily packs her things and leaves without Damon.
Continue Reading