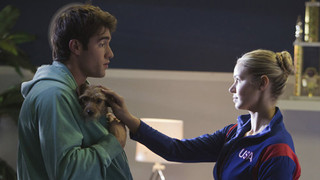 ---
While taking a jog, Max and Paysondiscover an abandoned puppy which they decide to hide until they find a new home for her.
Sheila, Kelly Parker's manager arrives at The Rock complete with a tour bus and banner featuring Kelly Parker to hang outside of the Rock. The Rock girls are not to happy with Kelly's banner or her newly arrived manager.
Lauren is jealous of Max and Payson's deep conversations. She suspects the two have something serious going on, oblivious to the fact that most of the discussion is about the puppy.
Sasha announces to The Rock Girls, that there is one more spot on the World team and Kelly Parker is hoping Tessa lands it.
Sheila, who we later find out is Kelly's mother, stresses to Kelly that she can't afford to share the spotlight with Kaylie, there's too much money at stake. Kelly begins to try and distract Kaylie.
Mark is back in Boulder interviewing for a job after his company went under, and he and Kim decide to keep the information from Payson.
Austin asks Sasha for permission to work with Kaylie while she trains to get her spot back. Sasha approves. Austin devises a strategy to make Kaylie strong on one event, the vault which is Sasha's weakest link on the team.
After hearing Kaylie won the spot on the World team, Sheila tells Kelly Parker that she needs to get proof of Kaylie's anorexia so that Kaylie can kiss her endorsements good bye. Sheila feels as if Kelly let her down and that she may drop Kelly as her client.
Kaylie witnesses the tail end of Kelly crying after Sheila's outburst and Kaylie lends Kelly Parker an ear and expresses concern for her now that the two are teammates. Kelly ends up having dinner with Kaylie and her family.
Continue Reading