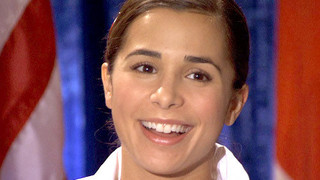 ---
Sheila, Kelly Parker's mother continues to have an overbearing presence at The Rock including blaming her daughter for allowing Kaylie to land the Healthy Bar endorsement deal. Sheila tells Kelly that she must expose Kaylie's eating disorder now that Kaylie has made the World Team.
Sasha continues to work with Lauren on beam and load her routine with high skill moves. Lauren agrees to trust Sasha.
Marcus tells Kim that the video of Payson kissing Sasha was sent to the NGO anonymously. The unedited version shows that Sasha pushed Payson away.
Kelly overhears Kaylie telling the press that Kelly Parker should be the team captain because she is the current world champ and has more gold medals than anyone else. Kelly is surprised by the class act Kaylie is.
The Healthy Bar representatives presents Kaylie and her parents with their endorsement deal for a fit, young woman, who cares about good nutrition. Kaylie, having kept her anorexia a secret, struggles with being dishonest and misrepresenting such a campaign.
Sheila seeks help to expose Kaylie's condition to Ellen Beals who has come back to exonerate herself from being investigated for the Payson/Sasha video scandal.
Payson shares with Kaylie that her parents can't afford to come to Worlds and are in heavy debt. Kaylie comes up with the perfect idea for Payson to be the spokesperson for Healthy Bar instead of herself. Max agrees to work on a presentation to convince the Healthy Bar reps that Payson is their girl.
At the Tanner party, Max runs to seclusion after Lauren throws herself on him sexually and Payson admits to being in love with him. When Austin finds Max, he's drunk and overwhelmed. Max kisses Austin.
Lauren is forced to tell Summer the truth about the video when Ellen Beals tips Summer to ask Steve who sent the training cam video to the NGO. Realizing that Steve and Lauren have been keeping this horrible secret all along, Summer refuses to have anything to do with Lauren and Steve ever again.
Continue Reading