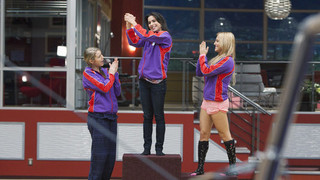 S3
E01
Smells Like Winner
---
Payson, Lauren, and Kaylie arrive at the US Training center in Colorado Springs, where they will train with other Olympic hopefuls for the next eight weeks. The girls say goodbye to their parents (as well as Sasha) and meet Coach McIntire, their new coach, for the first time.
Their first day on campus, Austin informs Kaylie that it's tradition to rub the head of Otis, the statue of a track and field official who was killed on campus. Every year a team steals Otis and then another team steals him back, and whoever has him at the end of the camp always medals at Olympics.
Lauren is continuously having fainting spells and thinks it may be the new perfume that she and her dad are developing. Although Lauren tries to hide it, she becomes much more concerned when she faints in practice and her ranking is dropped. Meanwhile, Payson receives a letter from Max asking to end their relationship. She is so distraught by the break up that it affects her performance at practice.
Wendy Capshaw, a bubbly and tiny young gymnast and junior champion, introduces herself to the girls and makes it clear that she's going to be a force to reckon with. Meanwhile, Jordan Randall, a former junior champion, hitchhikes to the training center and camps outside in hopes of being allowed on the team. She is initially told to go home by Coach McIntire, but she impresses him with a video of her amazing bar routine, the Coach tells Jordan she has one week on campus to prove herself.
Continue Reading