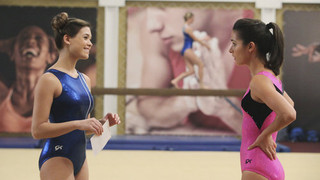 ---
Coach McIntire explains to the girls that no one gets to the Olympics alone and he pairs them with a partner who they will eat, sleep, train and breathe with. Their first assignment is to choreograph a routine to each other's strengths. Wendy is paired with Jordan, Kelly Parker is paired with Kaylie, and to Payson's dismay, she is paired with Lauren.
Despite their problems in the past, Kelly and Kaylie try to focus on the future -- but it isn't easy and they struggle to trust each other. Meanwhile, Lauren is upset with Payson's lack of motivation and decides she needs a replacement boy to keep her mind off of her breakup with Max. Lauren wants to hook Payson up with a cyclist Brad, but Brad's friend Rigo, a cute BMX rider, is interested in Payson and decides to keep the details of the set up location to himself. Rigo introduces himself to Payson and she is smitten. Lauren is upset when she realizes Rigo took Brad's place and Payson is furious to learn that Lauren tried to set her up without asking her permission. Payson forgives Lauren and the two begin to bond -- leaving Kaylie left out.
In addition, Lauren has another dizzy spell – but she keeps it from the nutritionist. Austin asks Kaylie to join him in an on-camera commentator class in an effort to keep up their profile as the "Golden Couple" for endorsements. During the class, Kaylie excels… but Austin struggles. And the girls think there is a mole amongst the gymnasts-- and Jordan is the prime suspect.
At the end of the episode, the girls all show the coach their routines. But there is added pressure when Coach McIntire informs them that two people will be cut after the day is over. Despite a troublesome performance by KP, Lauren, Payson, Jordan, Wendy, Kaylie and KP all make the cut. But Coach Mac warns Kelly and Kaylie they must learn to trust each other. After this, the girls talk through their problems and become a true team.
Continue Reading