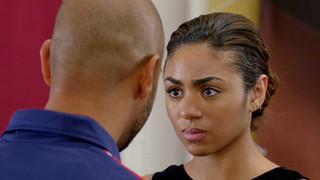 S3
E03
Time Is of the Essence
---
Payson is being interviewed by a reporter for a Gold Medal Story when the reporter questions her about the Sasha kissing scandal. Payson is upset that she can't seem to escape the incident, and Kelly Parker overhears Payson expressing her frustration to Kaylie. KP mentions to Kaylie that she can ask her mom to investigate who exactly sent the doctored video with Payson kissing Sasha to the NGO. Kaylie is hesitant at first, but KP convinces her that knowing who sent the video will provide Payson with closure.
Meanwhile, Marcus, the NGO representative, pays Coach McIntire a visit to ensure everything is going smoothly being that it's his first time coaching an all girl team. Unfortunately, things are far from great. And later, Payson shares with Marcus the girls feel uninspired with Coach McIntire and are doubtful of his ability to coach a girl's team.
Sensing a disconnect with the girls, Coach McIntire invites the team to his home to watch training videos and bond as a team. But tensions run high at the Coach's house, especially when Payson learns it was Lauren who sent the kiss cam video to the NGO. To avoid further embarrassment, Payson pretends to have known all along, but she's really crushed. Later, Lauren takes the blame for going to Marcus and complaining about Coach McIntire. The girls and Mac all have a heart-to-heart and Coach realizes he needs to take a different approach with them. Plus, the girls realize the coach has reasons for what he's doing.
Also, Payson finds herself being more attracted to Rigo, but the two can't find the time to spend together. Determined to see Pay before he has to go out of town, Rigo crashes the team's night at Coach McIntire's house and the two share a first kiss.
Continue Reading