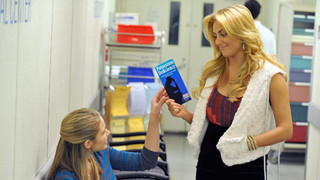 ---
The USATC is hosting an exhibition for parent's weekend and Coach is expecting the girl's routines to be perfect. Kelly Parker tells Kaylie that her mom, Sheila, is coming but is no longer managing her career. Coach McIntire realizes that Jordan's foster parents won't be coming to the exhibition and he invites her to his home for dinner. Ironically Jordan is not the only guest; Sheila manipulates Coach into allowing her to stay as a house guest while his wife is out of town. Later, Sheila makes an attempt to buy Kelly's place as team leader for the London games.
Elsewhere, Kaylie invites Austin to dinner as a distraction from her parents' constant bickering, but when Alec refers to Austin as his son and buys into their "golden couple" image, Kaylie realizes she may have asked for more than she can handle. Payson has her own parental issues when her father announces the family is moving. It takes awhile, but Payson realizes it's best for her family and while she continues to train, she'll live with Lauren.
Meanwhile, Payson takes Lauren to see a doctor due to her fainting spells and Lauren pretends to have a minor ailment. Suspecting there is more to what Lauren is offering, Payson makes a discreet phone call and learns that Lauren has an irregular heartbeat. Lauren makes Payson promise to keep her condition a secret.
Continue Reading