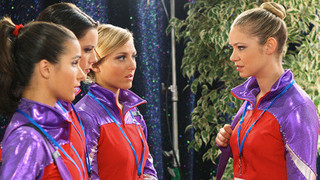 ---
The moment The Rock girls have all been working toward is finally here: Nationals. Payson, Kaylie, Lauren, and Emily have two days to prove they deserve to go to the Olympics.

But nothing goes as expected.

Carter shows up, and Kaylie tells him she loves him but it's over, then returns his necklace. Next, she gives back the necklace her dad made her from his World Series ring, telling him she needs to live her own dream. Then she asks him to be just her dad, not her manager. Kaylie reaches out to MJ to become her manager, but MJ -- like Sasha -- is convinced Kaylie's not dedicated to winning. So Kaylie proves them wrong.

Just when Emily's beginning to believe she really doesn't belong at Nationals, she gets her very own cheering section: Damon and Brian. Damon's surprise visit scores a lot of points -- and a kiss -- from Emily. But she's focused on gymnastics. And Damon's supposed to be headed to Los Angeles. Plus, Leo's back in the picture, now that he's accepted a coaching position at The Rock. Does this mean "Goodbye, Damon. Hello, Leo"?

Lauren's devastated when she learns that Summer has left her dad -- and it shows all over her face. Wearing a permanent scowl, she doesn't look like she wants to be at Nationals at all, let alone win. But when Lauren finds out that Summer's cheering for her in the stands, everything changes. Suddenly, Lauren beams -- and nails the beam. (Little does she know that Summer dumped her dad because she found out he scared Lauren's mom away from coming to Nationals.)

Payson's within reach of becoming All-Around Nationals Champion when she feels a twinge of pain. She's about to inject herself with an illegal cortisone shot when she decides she wants to win honestly. She tosses the dose in the trash and works through the pain.

Then tragedy strikes. During her final routine on the bars, Payson slips and falls. She loses consciousness. Her parents and Sasha rush to her side. When she wakes up in the hospital, her parents tell her she has a lumbar sacral fracture and can never do gymnastics again. If she does, she'll risk never being able to walk again. Payson's crushed as she watches her dreams slip away.

With Payson seriously injured, The Rock girls rally. They're doing it for her now, and nothing can stop them. Lauren comes in fourth overall and locks a place on the National team. Emily comes in 12th, which means she's also on the National team. But it's Kaylie who blows everyone away: She wins the gold! And she's named All-Around Nationals Champion.

After the awards ceremony, MJ rushes over to Kaylie to tell her that magazines and sponsors want to meet with her right away -- but Kaylie has something more important to do. She, Emily, and Lauren go to see Payson at the hospital. They put their hands over hers -- all for one, and one for all.

But what will happen next?
Continue Reading