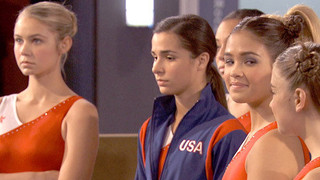 S2
E17
To Thine Own Self Be True
---
Kaylie is feeling responsible for Emily running away after Kaylie told her that she and Damon kissed. Kaylie returns to the Rock to train from what the outside world believes to be a damaged ACL and not a recovery from rehab. Sasha announces to the press that Kelly Parker will be replacing Emily at World's and that Kaylie will not be ready to compete which completely shocks everyone. Kaylie is afraid that if she doesn't compete at worlds, the NGO won't even consider her for the Olympic Team but she decides to trust Sasha's judgment.
Kelly Parker tells Sasha she thinks that Tessa Grande should fill Kaylie's spot.
Lauren plans a surprise bridal shower for Summer despite Summer's hesitation because Summer has yet to inform anyone she's engaged, especially Sasha.
Damon goes to the Rock to say good bye to Kaylie before he leaves to find Emily. Austin upset at the news of Emily leaving and seeing Damon with Kaylie, punches Damon in the face.
Payson convinces Kaylie to fight for her spot on the team and prove Sasha wrong. Austin, Max, Payson and Kaylie, all sneak into the gym
Continue Reading